Chief White Provides Update On Twist And Jacksonville Fires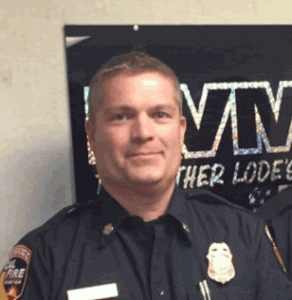 Josh White, CAL Fire Tuolumne-Calaveras Unit Chief

View Photos
Jamestown, CA — With continuing triple digit temperatures, the fire conditions will only continue to worsen into August and September, according to CAL Fire's Tuolumne-Calaveras Unit Chief.
Chief Josh White addressed the Tuolumne County Board of Supervisors at today's regular meeting in downtown Sonora. Quick work by firefighters this past weekend slowed the forward spread on the 690 acre Jacksonville Fire on Saturday and the 124 acre Twist Fire on Sunday.
Chief White stated, "Air resources did a fantastic job, our ground resources did a fantastic job, and we're really fortunate that because of the Detwiler Fire, we had a secondary basecamp out by Chinese Camp, and we were able to get some of the ground resources reallocated from the Detwiler incident onto both the Jacksonville and Twist fires…so we were able to hit it hard, and keep them contained, within that initial operational period."
Chief White indicated he is worried about the potential of August and September, which are typically the busiest months for firefighters. He added, "Two months ago, a truck dragging a chain, as it tows a trailer, wouldn't have been a worry. Those sparks would have landed in relatively green grass, and it wouldn't have caused a fire. We are now starting to see these fine dead fuel moistures. The fine dead fuel moisture yesterday was at three-percent. To put this into context a little bit, kiln dried wood, lumber, sits at anywhere from 8-12-percent fuel moisture, and the grass is at three percent…so that shows how dry everything is."
The Jacksonville Fire is considered 95-percent contained and the Twist Fire is 70-percent contained, and crews continue to extinguish hot spots.
He noted that the grass will continue to dry out at a rapid pace this week with ongoing triple digit temperatures. To drive home the point about the conditions, he added, "It just takes one vehicle to pull off the side of the road with the catalytic convertor or the muffler in the dry grass, and we're going to have a fire. It could be completely unintentional, but they drive off, and don't realize there is a fire behind them, and we're dealing with the consequences. I ask that the public be very proactive. If they have a neighbor who is mowing their dry grass in the late afternoon, go talk to them and warn them about it. If the neighbor won't take action, please call us at our headquarters office, and we'll mitigate it."