Mother Lode Historian, Writer, Artist Doris Fletcher Passes at 98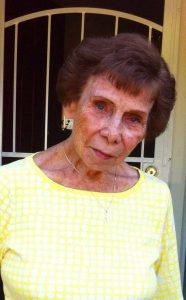 Mother Lode Historian Doris Fletcher

View Photos
Sonora, CA — A Mother Lode resident whose many talents and interests led her to become a noted local historian-author quietly passed away this weekend.
Jamestown native and long-time Sonora resident Doris Ann Fletcher, 98, had been living fulltime at Ingleside Assisted Living in Atascadero for a relatively short while, a town where daughter Christine Nelson resides. Daughter Gayle Losch, of El Dorado Hills, recalls her mother's love for her community, her seemingly boundless energy, the long, varied career she maintained through raising a family — and a "retirement" that wasn't.
A graduate of Jamestown Elementary and the Sonora High Class of 1937, Doris attended Modesto Business College and worked as a lab technician in Oakdale before returning to marry her high school sweetheart Leno Fletcher in 1940. Losch recalls her mother's extraordinary ability to get things done; purchasing the family's home after her new husband left to serve in WWII overseas for three years; arranging ahead of his return for a job at Bank of America, where he subsequently spent his entire career.
Doris became a local journalist, typing her columns at home while raising her family, later reporting for the Modesto Bee and Stockton Record among other publications. Along the way while covering social news and happenings she developed an interest in preserving local lore that would later lead her, much later in life, to work with the historical society and author seven books. Losch says Doris wanted to make sure that the essence of life in Sonora, Jamestown and Chinese Camp was somehow captured and that, while in her early 90s, she had begun an eighth book about her family's Irish branch.
A Life Steeped In Community Involvement
Her presence in the community involved other jobs; among these managing a local women's clothing store; working for the Tuolumne County District Attorney, including as the head of the child support division; as a legal secretary for lawyers Gary Dambacher and Kate Powell-Segerstrom. An avid traveler and tennis player well into her 80s, Doris was a member of the Tuolumne County Tennis Club, YLI, the Aronos Research Club, the Tuolumne County Historical Society and the choir at St. Patrick's, where she also served as a church organist. A life-long artist, she went back to college after retiring from legal work to study under teachers whose work she admired, subsequently displaying and selling her work at various art shows into her 90s.
Losch shares that when Doris decided to transition from tennis into "less strenuous" physical activities, those included Tae Kwon Do and Tai Chi, and that her mantra for a long life was staying active, busy, being a good friend and living a clean life. She also recalls her Mom's love for live theater, particularly musicals, and her patronage of The Sierra Repertory Theater/Fallon House as well as theater performances in San Francisco. Losch laughs that growing up, the family car was stuffed with as many people as it could hold during trips into San Francisco to see the likes of Florence Henderson, Gordon MacCrae and John Raitt perform in popular productions of the day.
In addition to Losch and Nelson, Doris is survived by sons Gary Fletcher of El Dorado Hills, Richard Fletcher of Modesto and David Fletcher of Santa Rosa; also 12 grandchildren, four great-grandchildren and numerous nieces and nephews. She was preceded in death by her husband Leno, son John Michael Fletcher of Modesto, and her second husband Robert Mills.
A vigil service next Monday at 7 p.m. is planned at Terzich & Wilson Funeral Home (225 E. Rose at Lyones St.) in Sonora. It will be followed Tuesday at 2 p.m. by Mass at St. Patrick's Catholic Church (127 W. Jackson St) and a burial service at St Patrick's Catholic Cemetary. The family requests that, in lieu of flowers, donations in her name for the Church Renovation Fund might be sent directly to St. Patrick's Catholic Church.