Mother Lode Running Hot, Trending Hotter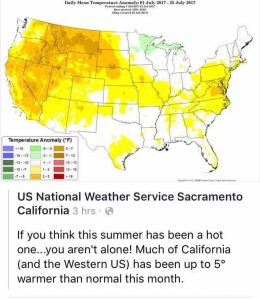 NWS-Sacramento Hot Weather Trend, July 26, 2017

View Photos
Sonora, CA – If it seems like a really hot summer so far, it turns out that, for much of California and the Western US, temperatures are trending much warmer than normal.
Today, the National Weather Service/Sacramento publicly noted what it is describing as a weather anomaly. From the auspices of his office, meteorologist Corey Mueller shares, "So far we have seen an above average start to the summer…temperatures running about one to three degrees above the norm."
Reviewing Sonora temperatures, Mueller comments, "Your highs are running about three to four [degrees] above average with lows very similar…and quite a few days in June and July with temperatures above 100."
Looking into the days ahead, "The forecast is definitely looking warm for this week heading into the weekend — and it looks to stay hot next week, running around 100."
As we previously reported here, while Sonora might be headed into another stretch of century-mark hitting heat, as we wind down July we will have to hit at least 107 before it is worth bothering to check whether we have tied a high temperature. The highest temperature recorded in the area is 113 degrees, which was noted only once before in July and once in June as well.
The heat will hardly help firefighting efforts and will likely trigger heat advisories. Mueller advises, "We want people to practice heat safety and make sure they stay hydrated." For tips on how best to do that, click here.