Sonora To Flirt With Another Heat Record This Weekend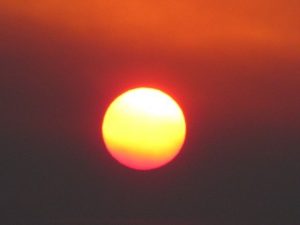 Sunrise

View Photos
Sonora, CA – With more triple-digit heat on tap this weekend many folks are wondering just how hot can it be, relatively speaking.
Well, 113 degrees Fahrenheit, the highest temperature ever recorded for Sonora, is the benchmark for both June and July, hit many years back. Before the weekend is out while it should not approach anywhere near that it might just get hot enough to tie a daily record.
Considering local records and current weather trends it just might be possible that Sonora at least ties a heat record on Sunday set back in 1941 if the mercury reaches 104 degrees.
To beat a heat record today, Sonora would have to hit 105, which it did on this date back in 1989. While it is possible it is not likely. It is even less plausible that it will be quite hot enough to set a record tomorrow, because, according to local weather history, the thermometer would have to attain 108 degrees F, a feat also reached in 1989.
During the Mother Lode's warmest years there is literally not much "hotter than July." Looking at the daily record highs for the month, this weekend looks to be the closest shot at setting a new high temperature record because for virtually every other day after that Sonora heat would need to reach at least 107 –- and on some days closer to (or exactly 113 degrees) -– in order to achieve that.
If it does not, it is doubtful that folks will feel much cooler just by comparison, which might be the perfect excuse for heading to the freezer and grabbing a popsicle.
Last month Sonora temperatures reached a record-breaking point, as reported here. During excessive heat days ahead of this past Father's Day weekend local public health officials offered precautionary advice to help prevent heat-related emergencies. To review what these are, click here.