Update: Safer Rafting Discussed After Missing Southern California Man Located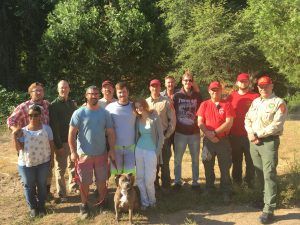 Missing rafters Joshua, Meghan, Jonathon, Nathan and Eve the dog, reunited with family, July 10, 2017

View Photos
Update at 2:43 p.m.: The successful rescue of a group of rafters that began over the weekend and ended this morning is providing local search and rescue officials an opportunity to weigh in on how to raft or inner tube more safely this season.
Above all, Tuolumne County Sheriff's spokesperson Andrea Benson emphasizes, it is essential to research the area you will be recreating in by making yourself familiar with maps and hiking trails and to know the current conditions of those waters as well as your experience level and limitations so you can make responsible decisions. Also make sure to pick a location where it is safe to engage in the specific water activity being planned.
She adds that equipment also needs to be sufficient and ready to cover the maximum requirements of the sport or task at hand. Look to the products' specifications under the manufacturer's recommendations. For water tubing, for example, tubes must have the capacity in terms of size and weight to carry the number of riders that will be using them at once. The rafters covered in the story below were using pool type rafts an air mattress and a pool inner tube; at least some of these items may have not been intended as river-worthy by the manufacturer.
For river rafting, officials strongly advise to look into engaging a licensed and professional rafting outfitter, especially with the higher, faster and colder than normal flows underway in the wake of an extremely wet winter weather season.
In terms of personal gear, officials stress that appropriate attire includes a life jacket, a helmet that fits securely when strapped and does not shift around on your head, and footwear. Even if you are only planning on a day trip, such as the rafters below were, bring enough supplies for a few days, especially if you plan on leaving the water, as the rafters did, to hike at several points. One of the party wound up being out on land for days, as Benson points out, adding that thankfully he was near the water and subsequently able to keep hydrated.
Two more important tips: do not venture out alone — and notify friends and family of your plan and course you intend to explore as well as the day you plan on returning.
The latter can well help to save your life as it gives emergency personnel a starting point and general idea of where to look. Benson shares that most people who perish in the wild do so because they could not be found.
Fortunately, the rafters did tell family their plan and what time they were expected to arrive, Benson states, so when they did not reach their destination, authorities were promptly notified. (To view photos shared of the search and rescue efforts and the rafters safely reunited with their loved ones click into the image box slideshow.)
In the interest of survival tips, Benson passes along information from the search and rescue personnel who worked to help Nathan, the missing hiker from the rafters' group.
On Saturday after an entire day of hiking, he reportedly found a warm rock to sleep on through the night to keep warm as he was only wearing shorts. Sunday, beginning at daybreak, he continued walking, looking for a way out of the area. It turns out that SAR had been in the areas he recounted walking through but missed him since he did not stay put.
By nightfall, he said that he could see the bridge near Rainbow Pools but knew he would not be able to safely navigate to it in the dark and so spent Sunday night sleeping next to a log. It was early Monday morning after he made it to Rainbow Pools and flagged down a passerby that he was then given a ride back to the Yosemite Lakes Campground, where he was reunited with his family.
Fortunate in that he was traveling along the river and able to keep himself hydrated, Benson says, other than some scratches and scrapes he came out of the experience without any major injuries.
Original Post at 7:34 a.m.: Groveland, CA — The Tuolumne County Sheriff's Office reports that 36-year-old Nathan Lubeck of Encino was found safe this morning.
He had been missing since Saturday. The Tuolumne County Sheriff's Office reports the search area was between Thousand Trails Campground (on Hardin Flat Road) and Rainbow Pools (near Highway 120 in Groveland). Lubeck, and three others, had originally planned to go down the Tuolumne River on inner tubes from near their camp (Yosemite Lakes RV Camp) to meet up with family at Rainbow Pools. When they did not arrive, law enforcement was notified.
Three of them, and their dog, were located Sunday at 3pm with the help of a CHP helicopter. They are Jonathon Gilbert, Joshua Lubeck and Meghan Lubeck. Click here to see video of the rescue.
Nathan Lubeck had hiked away from the other three in hopes of scouting out the area, and finding help. He was only wearing sandals, shorts, a hat and glasses.
The search started up again at 6am today and the sheriff's office reports that Lubeck was located safe, walking out of the treacherous terrain to his camp. No additional information is immediately available.
This is an update to an earlier story.