Funding Approved For Summer Bus Route To Pinecrest Lake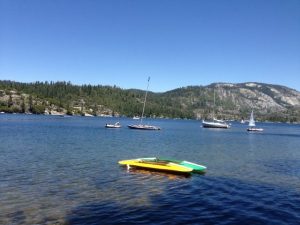 Pinecrest Lake

View Photos
Sonora, CA — While it is not anticipated to begin until 2018, Caltrans has awarded $24,213 to the Tuolumne Transit Agency to run bus service to Pinecrest Lake during the summer weekends and holidays.
Caltrans awarded money to 125 projects this week through revenue collected via its cap-and-trade program. The projects selected are designed to reduce greenhouse gas emissions and improve public transportation.
Tuolumne County Transportation Council Executive Director Darin Grossi says the new bus service to Pinecrest during the summer months will be modeled after the popular Dodge Ridge ski bus that already runs throughout the winter months.
Grossi says, "Unfortunately, since we received approval for the funding this late in the (summer) season, we will probably defer the service until next year. It will give us an opportunity to coordinate with some of the new management for the Forest Service up there, and also do a proper marketing and advertising program."
The bus service will tentatively run from Memorial Day through Labor Day. It will originate in Sonora and make stops along the Highway 108 corridor, before arriving at Pinecrest Lake.
Also of note, Caltrans is awarding Calaveras County $19,938 to expand its "Saturday Hopper" service that connects the county's densest population centers with commercial and recreational opportunities.