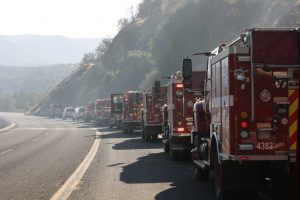 Spring Fire

View Photos
Mariposa County, CA — Five days of battling the flames from the ground and air have resulted in full containment of the Spring Fire, which forced residents from their homes and road closures.
Cal Fire indicates that the fire is 100 percent contained with the acreage holding steady at 225. The blaze broke out on Sunday just after 2 p.m. off Highway 49 and Allred Road, south of Mariposa. The flames spread quickly from the initial 25 acres to 60 around 4:30 p.m. and 225 by 6:30 p.m. During that time, mandatory evacuations were ordered, a section of the highway was closed and a shelter was set up in Mariposa.  Firefighter made progress that evening as the forward rate of spread was declared stopped just after 9 p.m. Residents were allowed to return to their homes on Monday evening.
At the height of the blaze there were 550 personnel, 33 engines,14 fire crews, 6 air tankers, 3 helicopters, 5 dozers and 4 water tenders. One structure was damaged in the flames. The cause of the fire remains under investigation.