85-Percent Containment Reached On Spring Fire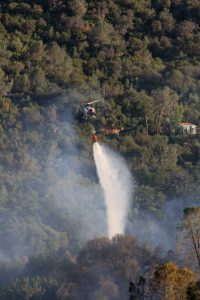 Spring Fire

View Photos
Mariposa, CA — Nearly 500 firefighters remain assigned to the Spring Fire in Mariposa County, as the 225 acre incident is now 85-percent contained.
What ignited the fire, this past Sunday at around 1:35pm, remains under investigation. Earlier evacuation orders have been lifted, and Highway 49 near the fire area has reopened to all vehicle traffic. There are 41 engines still assigned, 23 crews and six water tenders. The forward rate of spread has been stopped.
Cooperating agencies assisting include CAL Fire, Mariposa County Sheriff's Office, Mariposa County Fire, PG&E, Caltrans, Mariposa County Public Works, CHP and the American Red Cross.