Cherry Lake Will Be Drawn Down For Repairs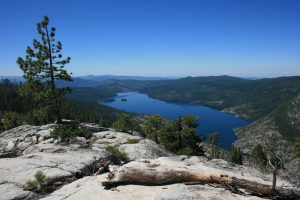 Cherry Lake

View Photos
Tuolumne County, CA — Cherry Lake in Tuolumne County will be drained at an accelerated pace starting next month, and it will have an impact on recreation later this summer.
Cherry Valley Dam is part of the Hetch Hetchy Regional Water System and it is used as a storage reservoir for senior water rights holders, and it also helps generate hydroelectric power at Holm Powerhouse. However, for many locals and tourists in Tuolumne County, it is best known for its recreational opportunities over the summer months.
The SFPUC manages the reservoir water levels through releases at Cherry Valvehouse, and the water is diverted to Holm Powerhouse, and then released to Cherry Creek, directly below the dam. The releases are done in part to maintain aquatic habitat, and also to ensure that the reservoir does not reach capacity during wet years.
A mechanical failure of one of the four high flow release valves occurred this past winter. In addition, two of the other valves have reached the end of their design life and are due for replacement. If not changed out soon, the valves could become inoperable. Such failure could result in uncontrolled water releases from the reservoir, creating problems for the dam, and public safety concerns.
In order to conduct the needed work the reservoir must be dropped to "minimum pool." Starting around July 15th, at the end of the seasonal snowmelt runoff, the reservoir will drop by 2-5 ft. per day. Come September, Cherry Lake will be down by over 200 ft.
Adam Mazurkiewicz, Water Operations and Maintenance Manager for the Hetch Hetchy Water System, tells Clarke Broadcasting, "We're hoping to be able to let folks recreate in the reservoir up until Labor Day. After that point, we have concerns about exposed infrastructure and folks having safety on the water. Working with the Forest Service, we are hoping to allow motorized access (boats) through Labor Day weekend, unless conditions force us to close it sooner."
Campgrounds will remain open this summer, but the water will become less and less as Labor Day nears.
Mazurkiewicz adds, "You certainly will notice the drawdown. Folks that like to camp near the shoreline should definitely be cognizant that the lake will drop overnight, so it's important to be careful that boats don't get hung up on anything, and they can still get their boats going in the morning.  Typically, in a lot of summers, we only drop about a foot per day, or less, so this is definitely going to be an accelerated drawdown compared to what folks have seen historically."
The last time Cherry Valley Dam was drawn down to this extent was in 1988, according to Mazurkiewicz.