Update: Progress On The Grant Fire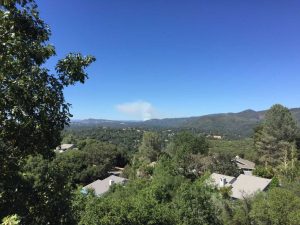 Grant Fire on the Stanislaus National Forest

View Photos
Update at 3 p.m.: The Grant Fire burning in the Stanislaus National Forest, north of Columbia has grown to 17.6 acres but forest fire officials do not expect it to increase in size. Forest Service Spokesperson Diana Fredlund explains, "They[crews] have very good hoses and hand lines that are protecting the circumference of the fire.  They are starting the mop up procedures while they are still getting the final containment especially  because they have good protection around the fires so they don't expect its size to increase. They will probably be around today and into tomorrow." Fredlund reports the personnel on site today is about 50.  (Further details on the blaze can be viewed below.)
Original post at 10:26 a.m.: Sonora, CA — Progress is being made containing the Grant Fire burning in the Stanislaus National Forest, north of Columbia.
Forest Service Spokesperson Diana Fredlund says, "As of this morning, it is about 60-percent contained. It is over on Italian Bar Road at the junction of 3N47. We are expecting to have it mopped up by today."
The fire is estimated to be around eight acres in size. What ignited the blaze, during the three o'clock hour on Tuesday afternoon, remains under investigation. No structures are threatened. The forward rate of spread has been stopped.