Committee Will Aim To Improve Voting In Tuolumne County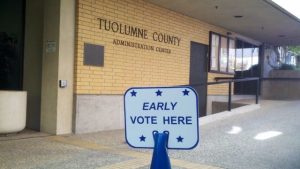 Tuolumne County Voting

View Photos
Sonora, CA — The Tuolumne County Elections Office is looking for ways to improve the voting process.
The county is planning to hold its first "Voting and Language Accessibility Advisory Committee" meeting next month. Robbie Bergstrom, county election supervisors, says, "It will allow the community to give input on improving our voting model."
Committee members have not yet been selected, but they will review voting locations, equipment, wording on voting materials, training, and outreach methods.
You can find out how to apply for the committee by clicking here. The committee meeting, on July 24, at 5:30pm in the Board of Supervisors meeting room, will be open to the public.
Part of the backstory for the committee being formed is that Tuolumne County is one of 14 pilot counties that will have the option of moving towards a new statewide election model in 2018, as part of the California Voter's Choice Act that was approved by the legislature and signed by Governor Jerry Brown. The committee formation is a requirement for those looking at potentially implementing the changes next year. The other counties in the state can implement the model beginning in 2020.
The California Voter's Choice Act transitions away from traditional polling sites and includes all voters receiving a ballot in the mail. It also expands early voting, and calls for the creation of new voting centers in their place. Find more about the statewide changes by clicking here.