Hazard Tree Removal Bill Approved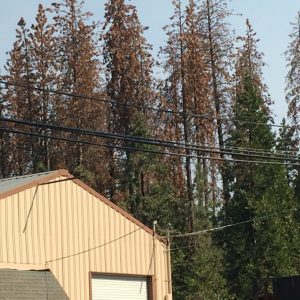 Dead trees along HWY 108

View Photos
Washington, DC — A bill local congressman Tom McClintock supported, H.R. 1873 the Electricity Reliability and Forest Protection Act, passed in the House yesterday but has yet to be brought before the Senate. The bill aims to make hazardous tree removal easier on Bureau of Land Management (BLM) and U.S. Forest Service lands near powerlines. The bipartisan legislation was introduced April 4th by Republican Rep. Doug LaMalfa (CA District 1) and Democrat Rep. Kurt Schrader (OR District 5) and passed 300-118 yesterday.
LaMalfa said in a press release, "Under current law it can take months for utilities to receive Forest Service or BLM approval to remove hazardous trees from transmission lines right of ways, even if trees are already in contact with electric transmission lines. In 2012, 232 wildfires were caused by trees falling on power lines. The following year in 2013, 113 wildfires were caused by fallen trees."
Congressman McClintock said in support of the bill, "You may have noticed that common sense is not common to government."
LaMalfa states his bill "provides utilities with the ability to rapidly remove hazardous trees by receiving pre-approval from the Forest Service to manage transmission line right of way zones and remove trees that are or could become hazards. Furthermore, if a utility requests authorization to remove a tree and is denied by the Forest Service, the Forest Service is responsible for any liability of firefighting costs that result from the failure to remove the tree."
Read McClintock's full statement on why he supports the Electricity Reliability and Forest Protection Act here.