Update: Missing Railroad Flat Teen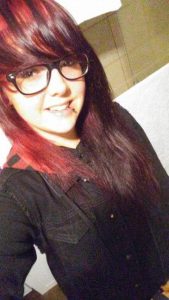 Mikaila Dawn Hodges

View Photos
Update at 6:30 p.m.: Calaveras County sheriff's officials are reporting that a local teen who they reported missing earlier today has been reunited with her parents.
Original Post at 3:54 p.m.: Railroad Flat, CA — Calaveras County Sheriff's officials are seeking the public's help to find a missing girl who is believed to be traveling with a 37-year-old male wanted for a parole violation.
Michael Allen Stewart from Yuba County and 17-year-old Mikaila Dawn Hodges of Railroad Flat were last seen a week ago in the Railroad Flat area. Her family reported her missing at around 8:30 p.m. on Monday.  While Hodges has been in contact with family and friends she has refused to reveal her location.
Regarding Stewart's current arrest warrant, Sgt. Anthony Eberhardt told Clarke Broadcasting, "I'm not ready to release that at this time." When asked if it included rape he stated it did not. Additionally, Sgt. Eberhardt did not know how the two met.
Stewart, known to frequent Marysville in Yuba County, is described by sheriff's officials as being 5'-07", 170 lbs, brown hair, and blue eyes; Hodges is 5'-04", 157 lbs, with black hair and brown eyes. Stewart is reportedly driving a 1980's white Jeep Cherokee with no front bumper.
Anyone with information as to their whereabouts is asked to contact the Calaveras County Sheriff's Office at (209) 754-6500 or the Anonymous Tip Line at (209) 754-6030.