Burglary, Attempted Deadly Assault Results In Crash, Arrest And Manhunt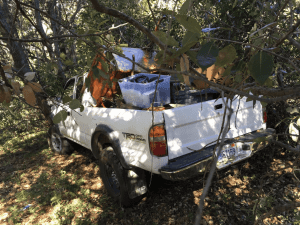 TCSO Case Photo, June 21, 2017

View Photos
Sonora, CA — Law officials are seeking one of two alleged thieves who fled the scene of a solo vehicle crash following a bold, daylight burglary and deputies' pursuit.
Tuolumne County Sheriff's spokesperson Sgt. Andrea Benson shares that late in the 9 a.m. hour today her office received a report of a burglary in progress in Sonora at a cabin on the 16000 block of Big Hill Road. The property manager gave the dispatcher a license plate number, supplying the further tip that a man and woman just left the scene in a white Toyota pickup headed towards Columbia.
She adds that, according to the property manager, as the suspects were fleeing the driver attempted to hit another property manager with the truck and that a dresser and numerous containers were visible in the pickup bed. Tuolumne County Sheriff's detectives, already in the area investigating an unrelated incident, spotted the Toyota and attempted to pull it over. When it failed to yield a short pursuit ensued until the male driver decided to slow down, jump out and flee on foot while the truck was still in motion.
The man's female passenger was still in the truck when it went over an embankment and crashed into a tree, according to Benson. She, later identified as 33 year old Raven Chapter of Calaveras County, exited and also attempted to flee on foot before being apprehended. Deputies searching the area for the male suspect did not locate him.
However investigators are following up on leads and expect to shortly have physical details and a wanted photo ready for public release, Benson states. It is probable that when apprehended, in addition to other charges, the male suspect may also face one of attempted assault with a deadly weapon due to his actions during the pair's initial getaway attempt.
Chapter, taken to Sonora Regional Medical Center for treatment of minor injuries, faces charges of conspiracy; burglary; charges pertaining to possession of burglary tools, stolen property, methamphetamine and drug paraphernalia; also resisting arrest.
Some of these alleged offenses directly relate to articles that turned up in a search of the truck. Among these were: methamphetamine, drug paraphernalia and burglary tools; numerous stolen items including a dresser, table, snow sled, copper utensils, autographed sports memorabilia and clothing altogether totaling approximately $3,800. Benson notes that the stolen property has already been returned to its rightful owner.
Click here to view a story update.