State Budget Deadline Looms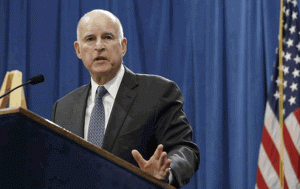 Governor Jerry Brown

View Photos
Sacramento, CA — California lawmakers must pass a new state budget by Thursday, June 15, in order to keep receiving a paycheck.
Last month Governor Jerry Brown proposed a $125-billion spending plan for the fiscal year that starts July 1st. A state legislative panel approved portions of the budget on Thursday. It includes expanding a tax credit for the working poor, boosting spending on social services.  Negotiations with Brown and party leaders will kick into high gear today, as the governor returned late Thursday from a week-long trip in China in which he promoted California's climate policies.
Brown's Deputy Finance Director, Amy Costa, told the Associated Press that a key item of disagreement still lurking is how to spend new tobacco tax revenue. Some lawmakers are arguing that more money should be used to increase the reimbursements for the Denti-Cal and Medi-Cal programs. California will receive an estimated $1.2 billion in additional revenue from a $2-per-pack increase in tobacco taxes approved by voters.
There is a state rule requiring lawmakers to pass a budget by June 15 in order to still receive pay. The final document must also be translated to formal legislative language, and published online, three days before the vote.