Fight Over SUV Led To Theft And Battery Charges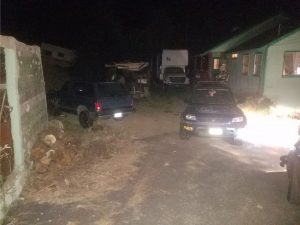 Incident scene in Crystal Falls

View Photos
Crystal Falls, CA – After choking a victim a man tries to steal an SUV but instead crashed it into another vehicle and then a cement wall.
Tuolumne County Sheriff's Deputies responded to a call regarding 19-year-old Mark Ramirez attempting to steal a car and attacking those trying to stop him. When deputies arrived at the home in the 16000 block of Sallander Drive in Crystal Falls, Ramirez was gone. Witnesses gave this account of the incident stating that the suspect had stolen a family member's Chevrolet SUV and purposely backed it up into a parked Toyota SUV that was blocking his exit. Ramirez continued to travel in reverse until he smashed into a concrete wall. A fight erupted as two people tried to stop Ramirez. He allegedly began choking one person, according to witnesses, then jumped out of the vehicle and took off on foot.
Deputies caught up with Ramirez nearby and took him into custody without incident. He was arrested for stealing a car, two counts of vandalism, and two counts of battery.