Additional States Join Brown's U.S. Climate Alliance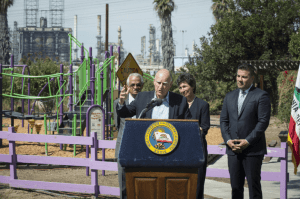 Governor Jerry Brown

View Photos
Sacramento, CA — California Governor Jerry Brown reports that the U.S. Climate Alliance, which he created with New York Governor Andrew Cuomo and Washington Governor Jay Inslee, has 10 new members.
The alliance has a stated mission of taking aggressive action to deter climate change, following President Donald Trump's decision to withdraw from the Paris Accord. Additional members announced today include Connecticut, Delaware, Hawaii, Massachusetts, Minnesota, Oregon, Puerto Rico, Rhode Island, Vermont and Virginia.
Brown, Cuomo and Inslee will serve as the co-chairs, and the alliance will create a forum to strengthen existing climate programs and share information and best practices to reduce carbon emissions.
When President Trump pulled out of the Paris Accord, he argued that the agreement was putting "draconian financial and economic burdens" on the country and diminished the economic production.