Arrest Following Tuolumne Motorcycle Chase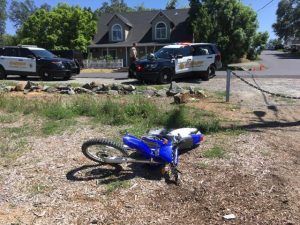 Motorcycle Crash in Tuolumne

View Photos
Tuolumne, CA — A man was arrested after leading a Tuolumne County Sheriff's deputy on a short pursuit.
It happened Sunday when a deputy attempted to pull over 28-year-old Brian Grijalva for failing to stop at a stop sign. Grijalva accelerated and led the deputy on a half-mile chase that ended when the suspect tried to ride off the road behind Jerry Whitehead Field. The front wheel of the motorcycle hit a boulder and crashed. Grijalva took off on foot, according to the sheriff's office, but was quickly captured. He was booked into Tuolumne County Jail on charges of vehicle evasion and driving on a suspended license. He also had several misdemeanor arrest warrants.
No one was injured in the incident.