Democrats: Vets Are Owed High Quality Health Care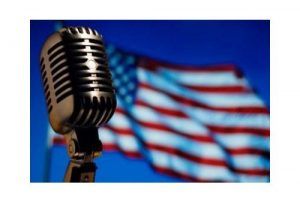 Microphone and US Flag

View Photos
During the Democratic Weekly Address, Senator Tom Carper (D-DE) stated that the American Health Care Act cuts against the "moral obligation 'to care for those who have borne the battle.'"
Carper was Tuesday's KVML "Newsmaker of the Day". Here are his words:
"Hello, I'm Tom Carper, a retired Navy Captain and 23- year veteran of the U.S. Navy and Naval Reserves, and now U.S. Senator for Delaware.
Whether you're kicking off the summer season at one of Delaware's five-star beaches-Rehoboth, Dewey or Bethany-or celebrating this holiday with a BBQ in your own backyard, I just want to wish you and your loved ones a safe and very special Memorial Day.
I also ask that you remember that Memorial Day is about more than sandy beaches and more than cookouts.
Each year, we dedicate one day for reflecting on and thanking the men and women who made the ultimate sacrifice to protect our country. It's a sacred day.
On this day we also remember the veterans who are still with us. These men and women of all ages are living testimony to the sacrifices made to protect the freedoms that we cherish.
It was one of the greatest honors of my life to serve our country for 23 years in the Navy.
Today, as the senior Senator for Delaware, it's one of my top priorities to ensure our nation fulfills its moral obligation 'to care for those who have borne the battle.'
We owe our veterans more than a debt of gratitude for their service.
We owe our veterans our steadfast commitment to providing them with high-quality health care, access to mental health care services, a safe place to call home, affordable college and career training programs.
We've got to work together to better serve our veterans.
And the reality is that not every veteran has access to the VA for health care.
Nearly two million veterans-that's one in 10-rely on Medicaid for their health care. That includes some 6,000 veterans who are living in Delaware.
The Republican plan to dismantle the Affordable Care Act cuts more than $800 billion from Medicaid. This plan combined with President Trump's budget proposal would bump that cut to $1 trillion.
At best, this would significantly scale back our veterans' Medicaid benefits and, at worst, cause them to lose their benefits altogether.
Veterans who rely on these benefits would see higher health care costs, lower quality care and less access.
At the same time, we know that veterans are at higher risk for serious and complex health care issues because of our service.
For some veterans, this access to health care is a matter of life and death.
Chronic conditions like Traumatic Brain Injury, Post-Traumatic Stress Disorder, opioid addiction and substance abuse disorders disproportionately affect our veterans. Yet the Republican proposal, sadly, to cut Medicaid will make it more difficult for our brave men and women to get the health care they need-and frankly, deserve-for these serious medical issues.
I think the best way we can honor those who gave their lives for our country is to honor the ones who are still with us today. And cutting these health benefits is no way to fulfill our moral obligation to 'care for those who have borne the battle.'
We should be working together and making it easier for veterans to access the health care they need, when they need it.
That means strengthening Medicaid-not weakening it.
Fully funding Medicaid-not cutting it.
So this Memorial Day weekend, I hope you and your friends and family enjoy the start of summer.
I hope you'll join me in remembering the hallowed reasons why we pause to commemorate this holiday.
And I hope you'll remember that our veterans desperately need a health care system that takes care of them just as well as they took care of our country when they served-when we served- in our armed forces.
Thank you, and God bless you."
The "Newsmaker of the Day" is heard every weekday morning at 6:45, 7:45 and 8:45 on AM 1450 and FM 102.7 KVML.