Sonora Man Threatened To Bomb Police Patrol Car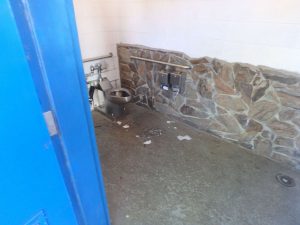 Sonora's Grigsby Park bathroom where fire was started

View Photos
Sonora, CA – Sonora Police report a man is behind bars for not only making bomb threats but admitting to arson as well.
Initially 55-year-old Robert Carl Anson of Sonora was arrested for petty theft from the Sonora Police Department where he was caught trying to steal some items from a meeting room, according to Acting Police Chief Turu Vanderweil. While on the way to jail, he made numerous threats to an officer, stating, "I'm going to drop a bomb on this state, no; in fact, I'm going to bomb this police car."
During questioning Anson also admitted to setting toilet paper on fire inside a bathroom at Sonora's Grigsby Park. Chief VanderWiel adds that Anson is a registered arsonist and under his parole he is suppose to update his status, which he failed to do.
His bail is set at $70,000.00 as he is charged with making criminal threats, false bomb threat to peace officer, petty theft, failing to re-register as an arsonist and causing a fire of property with a prior arson conviction.