Delays For Travelers Beginning Next Week In Downtown Sonora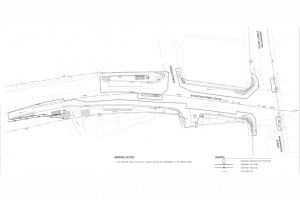 Sonora Washington & Stockton Corridor project

View Photo
Sonora, CA – Commuters can expect delays as next week crews begin work on a sidewalk and bus stop project at a busy downtown Sonora intersection.
Dirt Dynasty out of Valley Springs is the contractor for the Stockton-Washington Corridor Downtown Transit and Accessibility Project in downtown Sonora. The work was to begin in recent weeks, but the recent stormy weather postponed the project. It will now begin on Monday, April 4th, and continue until the project is complete. The scope of work will consist of new sidewalk approaches on all four corners of the intersection. It will also include constructing sidewalks and bus stops, about a block down on West Stockton Street. The hours of operation will be Monday through Friday, from 7 a.m. to 3:30 p.m. each day.
Motorists will face delays of up to 10 minutes at times due to equipment moving in and out of the areas. Drivers will also want to watch out for water-filled barriers installed in the work areas. Traffic could also be shifted around using temporary striping throughout the project.
There will also be a large truck detour in place, with those traveling south on South Washington Street not allowed to turn right onto West Stockton Street. Also, eastbound trucks on West Stockton Street will not be able to turn left onto North Washington Street.
The contractor noted that they are working with all of the businesses affected by this construction to allow for safe pedestrian traffic.