Two Vision Sonora Projects Receiving Funding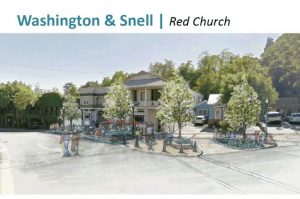 Vision Sonora Draft

View Photos
Sonora, CA — The Tuolumne County Transportation Council agreed to set aside money to move forward a pair of Vision Sonora projects.
The comprehensive Vision Sonora Plan was created last year in an effort to create a roadmap for making mobility and aesthetic improvements in the downtown district. The Transportation Council agreed to fund improvements for the first two projects, through set aside Congestion Mitigation and Air Quality Funds. There will be a new transit hub downtown, and improvements near the historic Red Church.
"The Transportation Council was able to address two of the most challenging intersections, from a pedestrian standpoint," says Darin Grossi, TCTC Executive Director. "They were also able to address concerns about the current Courthouse Park bus stop."
The Red Church Pedestrian Improvement Project will replace and reconfigure the sidewalk area on North Washington Street, near Snell Street and Elkin Street. It will incorporate pedestrian amenities, including benches, trash receptacles, and an informational kiosk. The location will also be reconfigured so that there is a "pocket park." The total cost of the work is estimated to be $695K. The project will go through several review steps, and construction should start in November of 2015.
The second project is a Washington Street Transit Hub that is designed to improve traffic flow and mobility downtown. It will be situated on South Washington Street, between Church Street and Stockton Road. The transit hub will include new landscaping, sidewalks, transit shelters, bicycle racks and security cameras. It also includes modifying the nearby traffic signal. The light will receive an upgraded signal, signal controller and signal timing, in hopes of allowing for more green light time. There will also be ADA improvements. The total cost of the project is $1.9 million, and construction should start in December of 2015.
A vote to approve the combined $2.6 million in funding for the two projects was approved 4-1.