Weekend Events Before Memorial Day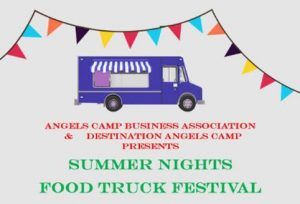 Food truck festival

View Photos
Many outdoor events are planned during this year's sunny Memorial Day weekend. At Utica Park the Angels Camp Business Association and Destination Angels Camp are hosting a Summer Nights Food Truck Festival from 4:00 to 8:00PM. Along with food trucks featuring various cuisine there will be live music and the Angels Camp Business Association will be selling beer and wine with proceeds to help support ACBA's events. The business association sponsors the Fresh Fridays Certified Farmers Market, Taste of Calaveras, Mark Twain Wild West Fest, sidewalk sales, and the annual Hometown Christmas Parade and Christmas Gala.
The Sonora Farmers Market is open this Saturday and there is a list of other Local Farmer's Markets opening soon. The Arnold Lions Pancake Breakfast is held along with the 39th Annual Arnold Spring Peddler's Faire. The Ebbetts Pass Volunteer Fire Department is sponsoring and will man their beer booth featuring local Calaveras County brews. There will be over 60 other booths of antiques, collectibles, hand-crafted items, gourmet foods, vintage jewelry, and more.
Railtown 1897 Offers Special Activities on Memorial Day Weekend and at the Tuolumne County Animal Shelter also in Jamestown there will be a Low Cost Rabies and License Clinic.
Participate in the Calaveras Door of Hope's "Heroes Fun Run 2017" this Saturday in Murphys, and don't forget the Old Timers Museum walking tour of Murphys or the Greenhorn Creek Community Garage Sale in Angels Camp. Over in Pine Grove the 4th Annual Chaw'se Day has no admission fee and features Native American games, cuisine, dancing, crafts, guided park tours, and more. The event is open from 9:30 a.m. to 4 p.m. both Saturday and Sunday.
The Mi Wuk Sugar Pine Fire Protection District Auxiliary is hosting a Rummage Sale today and Saturday. On Saturday there is a Chamber Chili Cook Off in Twain Harte.
The list of events happening on Memorial Day is here and details about the 2nd Annual Memorial Day Celebration Of Our Heroes are here.