Sierra Pines Reservoir Would Cost Around $13.9-million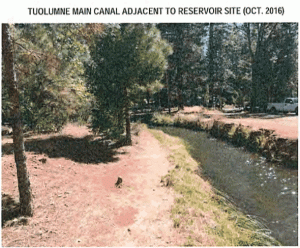 Tuolumne Main Canal Adjacent To Proposed Reservoir Site

View Photos
Sonora, CA — The T.U.D. Board of Directors will hold a study session to review the feasibility of building a 350-800 acre ft. reservoir near the former Sierra Pines Golf Course in Twain Harte.
The district earlier hired a company (GEI) to conduct a feasibility study, and the report estimates that construction alone would cost as much as $13.9-million. In addition, the district would need to purchase needed property from PG&E. The report findings, and options for moving forward, will be the focus of a T.U.D. public study session this afternoon. The meeting documents prepared by T.U.D. staff read, "GEI reported that the establishment of a nominal 350 foot reservoir at the site is feasible, but expensive and perhaps inefficient given the limited storage produced."
Other options looked at by the district to increase water storage, which could also be up for discussion today, include adding pipeline sections between Lyons Reservoir and the district's ditch system at Twain Harte, building a flume bypass tunnel, making ditch improvements, or creating additional storage at Lyons Reservoir and/or other locations.
Today's study session will get underway at 3pm in the T.U.D. meeting room at 18885 Nugget Blvd in Sonora.