California Relaxes Many Water Restrictions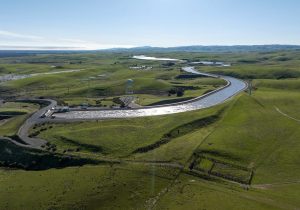 State Water Project - DWR Image

View Photo
Sacramento, CA — California is officially easing back some of its drought restrictions in response to the extreme winter season.
Governor Gavin Newsom says the massive amount of precipitation in recent months comes after three of the driest years on record. Toward the end of 2022, California announced that cities and farmers who receive water through the State Water Project should anticipate receiving only 5% of their requested allocation. It was then bumped up to 35% in February. Newsom now says they will receive 75% requested as reservoirs are quickly filling up due to the ongoing heavy rain and snow.
Newsom refers to the change as "climate-driven weather whiplash."
The State Water Project, fed by various reservoirs, supplies water to 29 public water agencies and a combined 27-million Californians. It is also relied upon by many Central Valley farmers.
In addition, the state is no longer asking Californians to voluntarily conserve water by 15%. However, there is still a ban on "wasteful water use," like watering ornamental grass on commercial properties.