Firefighters Extinguish A Blaze At An Amador County Hotel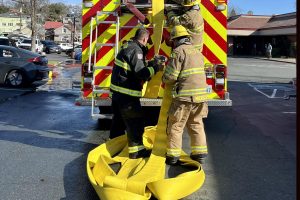 Fire at the Best Western Amador Inn in Jackson in Amador County

View Photos
Jackson, CA – Firefighters battled a blaze at an Amador County hotel yesterday afternoon that ignited in one of the rooms.
Amador Fire Department crews rushed to the Best Western Amador Inn located at 200 Highway 49 in Jackson on Friday around 3:30 p.m. for a report of a structure fire. Upon their arrival, crews reported, "light smoke coming from the exterior of the building and went inside to investigate."
Firefighters discovered mattresses and box springs on fire in the bathroom of one of the rooms that was being remodeled. Fire officials detailed, "A few mattresses and box springs were being temporarily stored in the bathroom while the carpet was being removed from the unit. The fire was quickly extinguished and contained to the mattresses and box springs being stored."
Fire crews remained at the scene mopping up for about three hours. No injuries were reported. Amador Fire officials say, "This incident is currently under investigation and the cause has yet to be determined."
Assisting resources on the scene included Cal Fire, Amador Fire Protection District, Sutter Creek Fire Protection District, Ione Fire Department, and the Jackson Police Department.