Highway 120 Entrance Reopening In Yosemite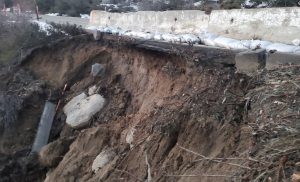 Storm Impacts In Yosemite

View Photo
Yosemite, CA — Effective noon today (Friday), the Big Oak Flat Road (extension of Highway 120) will reopen in Yosemite National Park.
Park officials note that chains are required to travel on the roadway. In addition, Wawona Road (Highway 41 extension) will open at 5pm. Both roads still have storm damage and will be down to one lane in certain areas (controlled by traffic lights). Use caution when traveling and allow extra time getting to Yosemite Valley. The two entrances have been closed since February 25.
Highway 140 into Yosemite reopened last week. Badger Pass Road, including the ski resort, remains closed until further notice.
The Mariposa Grove is also still closed due to public safety concerns.
Trails to the Tuolumne and Merced Groves are also covered in several feet of snow. Wear waterproof boots and traction devices as even plowed paths can be icy. Hiking on snow-covered trails is not recommended.
A programming note, Yosemite Ranger Scott Gediman will be the guest on this weekend's Mother Lode Views. He will talk about the recent storm impacts and many additional other topics, including the reservation system, updates at the Ahwahnee, Tioga Road construction, and what to expect this spring when it comes to waterfalls.