Discover Any Damaged Roadways Or Other Hazards On Forest?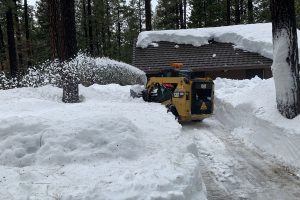 Snow removal in the Pinecrest area of STF

View Photo
Sonora, CA – Now that the flood waters are receding and the snow subsiding, the Stanislaus National Forest is turning to the public to help target damaged roadways and other hazards left by the recent storms.
While the forest has targeted areas with significant damage and has already begun working on a repair plan in the lower elevations, many roads elsewhere in the forest remain inaccessible due to the snowpack. Forest officials add that the true scope of the damage is still unknown in many areas.
"While we are asking for the public's help, I want to stress that no one, my staff included, should put themselves in a dangerous situation on National Forest Roads," said Stanislaus National Forest Supervisor, Jason Kuiken. "While it is always the case, especially during this period, we ask the public to pay attention to locked gates and to any road closures that may become necessary. The closure of any forest service road is an extremely deliberative process, but the public's safety is always our utmost concern."
If the public encounters damage to the forest in the coming weeks, they are encouraged to take a photo showing the damage with something for scale (a car, person, dog, or lunchbox) and a location. Then email the photos and information to Forest Assistant Engineer Kat Baker at Kathryn.Baker@usda.gov.