Madera County Man Arrested In Mariposa For Grand Theft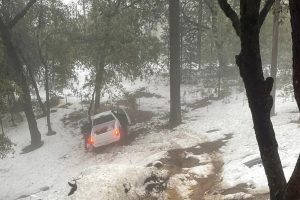 Stolen truck stopped on snowy, muddy roadway

View Photos
Mariposa, CA – During the recent major storms this month, Mariposa County Sheriff's deputies not only had to chase down road hazards but a Madera County man in a stolen truck.
Several roadways in the Mariposa area were closed due to snow, ice and flooding, with sheriff's deputies manning them. Sheriff's officials report that the suspect, 46-year-old Joseph Jackson Kling from North Fork, California, tried to "hide" from deputies "by driving down flooded, snow-packed roads." They caught up with Kling in the 5800 block of Oak Drive in Mariposa near Tenaya Trail Road and south of Highway 49, where the truck became disabled in the mud, as pictured in the image box.
Kling was arrested for felony grand theft auto and vehicle theft. He was placed on $50,000 bail.