TC Supervisors To Discuss Planning Commission Seats And Homelessness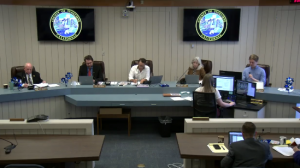 Tuolumne County Supervisors

View Photo
Sonora, CA — There are three expiring terms on the Tuolumne County Planning Commission, so the supervisors will vote on whether to reappoint existing members, or pick someone new.
They include the District Two seat held by Larry Beil, the District Three seat of Jim Jordan, and the at-large seat of Mike Gustafson.
It is on Tuesday's Tuolumne County Supervisors meeting agenda.
The board will also vote on extending the existing lease by up to 15 years with Lake Tulloch RV Campground and Marina, LLC., in relation to 62 acres of land at the South Shore Tulloch Reservoir. The county operates and maintains the site through an agreement with the California Department of Fish and Wildlife. The Lake Tulloch RV Campground and Marina group has made various improvements to the site over the years, and there is a snack bar, swimming area, fuel dock, and boat rental area. The current lease runs through the end of this month. As part of the continued agreement, the company agrees to annually pay 15% of revenues, or $100,000, whichever is greater.
The meeting will also feature a discussion about homeless initiatives, and how the county should proceed forward in relation to seeking available properties. This comes after the Columbia Inn site was thrown out as a potential location following numerous community concerns. Tuesday's meeting starts at 9am in the board meeting room at 2 South Green Street in Sonora.