Berryhill's Regulatory Reform Legislation Voted Down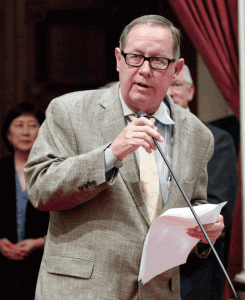 Senator Tom Berryhill

View Photos
Sacramento, CA — Legislation that would have required the elimination of two regulations, for every new one created, failed to gain the support of the California Senate's Governmental Organization Committee.
Senate Bill 181, introduced by Mother Lode Republican Senator Tom Berryhill, is very similar to an executive order at the federal level signed by President Donald Trump.
Berryhill says, "Something needs to change in this state. Businesses are leaving California for friendlier environments, while individuals are frustrated by the government progressively chipping away at their freedoms and their incomes."
Berryhill cites that the California Code of Regulations is 28,000 pages long.
Berryhill adds that Senator Steve Glazer, the Democratic chairman of the committee, felt it was too much of a "meat clever" approach, but expressed an openness to look at other approaches to address regulatory reform.
Berryhill added, "I appreciate the chairman's gracious comments and I am eager to work with him on this issue."