Roadwork Continues In Tuolumne And Calaveras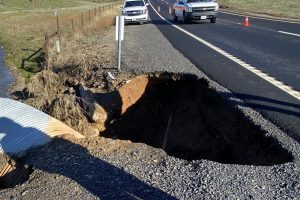 HWY 108-120 shoulder damage from December 31st storm

View Photo
Motorists can expect delays on two Mother Lode highways this week, from February 5th to the 11th.
On Highway 12 in Calaveras at mile marker 16 from the end of the passing lane to Central Hill Road, utility work with one-way traffic control will cause up to 10-minute traffic delays on Monday. The work is scheduled between 7 am and 5 pm.
On Highway 4 in Calaveras from Lashkoff Place to Strawberry Hill Road one-way traffic control will allow for drainage work. The work is scheduled Tuesday through Thursday from 7 am to 5 pm and Friday from 7 am to 3pm.
On Highway 108 from East Long Barn Road to Stoddard Springs Road on of the lanes will be restricted for utility work. The work is planned for Monday through Friday from 7 am to 3 pm.
On Highway 120 at mile marker 1.3 to 4.4 around the Button Road/East Frontage Road roadway wash-out work is scheduled to continue from 10:30 am to midnight until the roadway is fixed. One of the two lanes remains closed as the work is done.
The passes are closed. Updating Highway closure information is here.
Road projects are subject to change due to traffic incidents, weather, availability of equipment, and/or materials and construction-related issues. Caltrans asks motorists to obey signage and flaggers while slowing down around crews and equipment in the cone zones.