A Good Reason To Check On Elderly Neighbors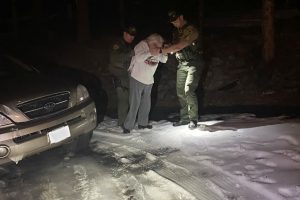 Deputies help elderly woman get from her car to the house

View Photo
Pioneer, CA – Repeated calls to an elderly couple's home in Amador County went unanswered and probably saved an elderly couple's lives.
During severe weather or other emergencies, first responders frequently advise residents to check on their neighbors, particularly senior citizens. That advice was lifesaving for an elderly couple in the Pioneer area of Amador County on Wednesday night. After hearing a car horn sounding and calling their elderly neighbors several times with no answer, a neighbor feared for their safety and called 911.
Responding Amador County Sheriff's deputies discovered a frightened elderly woman inside her vehicle and also an elderly man on the ground. They learned that he had slipped and fallen on the icy driveway, and due to that, she was afraid of getting out of the vehicle. Deputies helped them into their home, where they were checked by medical personnel. Before leaving, deputies assisted the couple again by bringing in their groceries and putting salt on the driveway.
Once again to bring their point home, sheriff's officials stated, "We appreciate the concerned caller notifying us and preventing what could have been a tragic outcome.  With the recent cold and icy winter conditions, it's always a good idea to check on your neighbors!"