Calaveras State Highway Enhancement Survey To End Soon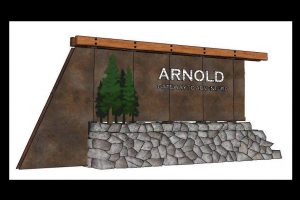 Potential Arnold Sign

View Photo
Calaveras, CA – Caltrans is partnering with Calaveras County and the City of Angels Camp to build eye-catching gateway monuments and wayfinding signs at key locations along state highways in Calaveras County.
This comprehensive gateway signage program will cover 22 locations in seven communities, including Angels Camp, Arnold, Copperopolis, Murphys, San Andreas, Valley Springs, and Mokelumne Hill. The project is funded by the Clean California State Beautification Program, which aims to enhance the aesthetics of public spaces along the state highway system. The program offers an opportunity for residents to improve their communities with transformative beautification projects. Residents are invited to view the refined design for their community and provide feedback by participating in a survey.
The survey links and information on the project can be found here. The survey will close on February 3, 2023. The partnership between Caltrans, Calaveras County, and the City of Angels Camp's goals are to improve the scenic beauty of the state highways in Calaveras County and create a welcoming atmosphere for residents and visitors.