Public Safety Concerns Have Closed Section of Wards Ferry Road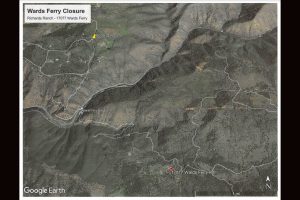 Wards Ferry Closure map

View Photo
Tuolumne County, CA – A stretch of Wards Ferry Road was closed this morning due to public safety concerns over storm damage on the roadway.
The closure will also allow Tuolumne County Public Works crews to assess the situation, which they plan to do tomorrow. The closed span is between Richards Ranch and 17077 Wards Ferry Road in the Sonora area. The decision to shut down the area, according to road officials, came after finding "substantial storm damage," which included several land and rock slides. They added that one area of major concern is where the road appears to be "sliding away."
County officials advised that all homes within the closed area are accessible by other routes. Crews already put up road closure signage this morning, and this afternoon they are placing K-rails, which are white concrete barriers strung together, to keep traffic out and "ensure public safety."
An update on roadway conditions and a timeframe for when the roadway could reopen will not be available until after an assessment is completed, according to the county.