Mother Lode Behind State Average On Student Immunizations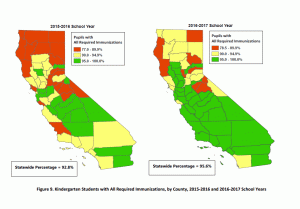 Comparing the immunization rate

View Photos
Sacramento, CA — New immunization rules took effect this school year, and 95.6% of California students have received all required vaccines, but only 88.8% in Tuolumne County and 89.6% in Calaveras County.
Different immunizations are mandatory upon entering both kindergarten and seventh grade. Some of the students that have not been immunized have filed personal medical exemptions. Others already in school had earlier filed personal belief exemptions.
Overall, the first year of implementing the new requirements has boosted the state's immunization rate to the highest level in 15 years. Last year, the overall rate was 92.8%.
Author of the bill implementing the new rules, Assemblyman Richard Pan, says, "I am pleased that this first year of the implementation of SB277 has resulted in the significant rise of the vaccination rate of this year's Kindergarten class. This success is a first step toward reducing the number of unimmunized people putting our families at-risk for preventable diseases, thereby restoring community immunity throughout our state in the coming years."
Passage of the legislation was contentious, and it drew protests at the state capitol. Opponents argued that parents should have the say over whether their child is immunized.