First Inmates Enter Juvenile Detention Facility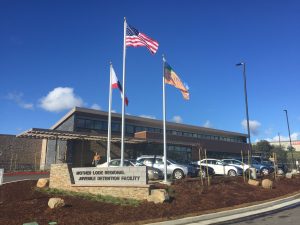 Mother Lode Regional Juvenile Detention Facility

View Photos
Sonora, CA — The Mother Lode Regional Juvenile Detention Facility has officially opened, and the first juveniles arrived late yesterday afternoon.
Chief Probation Officer Linda Downey reports that the two Tuolumne County juveniles, who had both been staying approximately three hours away in Nevada County, arrived at around 4:30pm. As for how many inmates can be expected at the facility over both the short and long-term, Downey says that it is a "moving target." The 24,630 sq. ft. facility, situated at the Law and Justice Center property off Old Wards Ferry Road, has 30 beds.
Downey says that the county is still finalizing potential agreements with other counties to house their inmates, and she anticipates some juveniles from outside the area could arrive sometime in the next few weeks.
Downey adds that the facility has a "hopeful atmosphere" and it is not "doom and gloom." She says 800 people toured the facility over the past several months, and hundreds of people have pledged support in the form of donations or volunteer work.
"I really cannot say enough, I'm just overwhelmed and very appreciative of this community and its support," says Downey.
She notes that one of the most donated items has been books for a library on site for the juveniles.
Downey adds, "We also had a number of people that just want to share their talents, whether it be quilting, painting, automotive, engineering or religious services."
Plans are for orientation meetings to begin in the next couple of weeks so that those interested in volunteering can learn more about providing services.
The facility has 14 full-time staff members and one part-time member. Tuolumne County received $16-million in state grant funding to construct the facility. County officials estimated earlier this year it will take around $400,000-500,000 in additional funds per year to operate the facility versus the former way of sending kids out of the county.
A ribbon cutting ceremony was held in early January for the facility, but we reported last week that there were delays to actually opening the doors for juveniles. They included items like final health and building inspections, and getting all of the security electronics in place.