T.U.D. Will Discuss Service For Planned Residential Development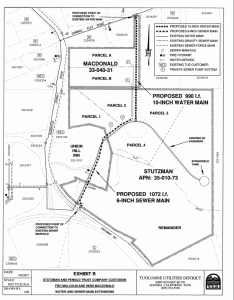 Planned Residential Development In Columbia

View Photos
Sonora, CA — The T.U.D. Board of Directors will vote on an agreement regarding water and sewer main line extensions for a development in the Columbia area.
The 43 acre area is northeast of the intersection of Highway 49 and Parrotts Ferry Road. The land is broken down into six parcels and the owners/proponents are listed in the meeting documents as "Donald and Barbara Stutzman and Pensco Trust Company Custodian GBO and Malcolm and Heidi MacDonald IRA." It notes that the Stuzman's specifically own 37 acres of the development and MacDonald's have six acres.
The developers are hoping to add the combined six parcels to T.U.D.'s infrastructure. The district would receive sewer and water fees for each parcel in amounts of $5,319 and $7,212 respectively.
It is noted that in order for T.U.D. to serve the planned project, the district requires an agreement in place with the developer, which is designed to protect both entities involved.
Specifically on the agenda is approval of a "CEQA notice of determination and agreement regarding construction and transfer of water and sewer main line extensions to serve six parcels."
In other business today, the Board will hear an update on the district's Capital Improvement Program, and vote on passing a resolution of support for the California Water Agencies position on the Bay Delta Plan.
Today's meeting starts at 2pm in the T.U.D. meeting room.