Settlement Reached With State Regarding Tuolumne County Stormwater Runoff Violations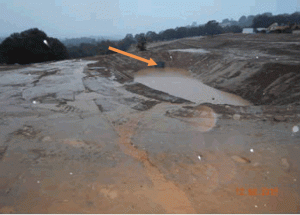 Storm Water Issues Dec. 8 At Law and Justice Center Site

View Photos
Sacramento, CA – Tuolumne County has agreed to pay a $131,464 fine in a settlement it reached with the Central Valley Regional Water Quality Control Board regarding storm-water runoff violations at the law and justice center site off Old Wards Ferry Road.
State officials say that the settlement was reached using a streamlined process that provided the county an opportunity to quickly resolve the alleged violations that threatened Sullivan Creek, a tributary of Don Pedro Reservoir.
"We take these violations very seriously and we want construction sites across the Central Valley to know we are investigating complaints and taking action to stop further environmental damage," said Andrew Altevogt, assistant executive officer for the Regional Water Board. "We initiated this fast track approach after Tuolumne County, or its contractors, made a conscious decision not to comply with the basic requirements for the protection of surface waters from their construction activities."
As earlier reported here, the site was inspected twice in December when it was raining. The first time, state inspectors found it violated erosion and sediment control permit requirements. One week later, inspectors found nothing had been done to fix the heavy mud puddles and excessive storm runoff going into Sullivan Creek.
In February, County Administrator Craig Pedro told Clarke Broadcasting that the county did not disagree with the state's findings and indicated that measures in the contract with F & H Construction out of Lodi would cover the costs.
Speaking this afternoon, Pedro says, "We definitely need to get that invoice paid. They [the state] are entitled to it and the county will likely make that payment. Our next step is to pursue reimbursement of those costs from F & H construction, who we firmly believe was responsible to have completed the work. That is the basis of the fine that the work didn't get done. We feel they're responsible for that cost…and that's actually being discussed between our county counsel's office and F & H's attorneys as we speak."
Pedro indicates that the county has other options for reimbursement such as, "withholding funds from final payments if necessary. There is a normal process that's built into all our contracts to deal with disputes."