California Faces $22-Billion Budget Shortfall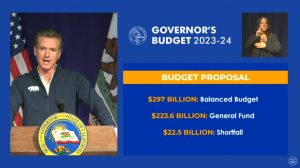 Governor Newsom releases new budget

View Photo
Sacramento, CA — Governor Gavin Newsom presented a new budget proposal for the upcoming fiscal year, taking into account a projected $22.5-billion deficit.
It is a sharp turn from a year ago when California had a $98-billion budget surplus.
Newsom said the main factor in the shortfall is declining capital gains due to an economic downturn. He noted that thankfully the reserve fund has been boosted in recent years because of efforts started by former Governor Jerry Brown, and it currently sits at $35-billion.
To offset the shortfall, Newsom is proposing that funding be delayed to some areas like transportation and climate initiatives (in hopes that revenue comes back better than expected or federal grant dollars are allocated). He also wants to shift billions of dollars related to zero-emission vehicle initiatives from the General Fund, to a special fund paid into by polluters.
Newsom stressed areas that will not see any notable type of cuts include drought and wildfire, homelessness, and public education.
You can view a short budget recap released by the Governor's Office by clicking here.
Republicans are voicing concerns about the plan. GOP Minority Leader Brian Jones says, "California is not on a sustainable path. The state must take pause and address the real needs of Californians such as homelessness, public safety, wildfires, water storage, and education. Republicans look forward to working with our colleagues on the other side of the aisle towards a more live-able California."