Vote Planned Today On Governor's Gas Tax Increase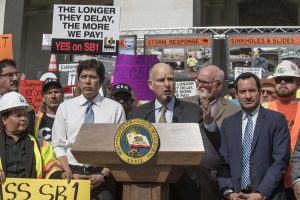 Governor's Rally For More Infrastructure Spending Wednesday In Sacramento

View Photos
Sacramento, CA — A vote is tentatively expected for later today on Governor Jerry Brown's proposal to increase the gas tax, and other vehicle fees, to raise an additional $5-billion for roads.
The Associated Press reports that the Governor and top Democratic lawmakers have been pressing fellow Democrats, and moderate Republicans, to support the legislation. It is receiving opposition from anti-tax groups and some environmental organizations.
The Governor's Office reports that there is a $59 billion backlog in deferred maintenance on state highways and $78 billion on local streets and roads.
It would notably raise gas taxes by 12 cents a gallon to 43-cents and diesel taxes by 16 cents per gallon to 36 cents. There would also be an increase in vehicle licensing fees, and size of the increase would depend upon the vehicle type.