Bomb Squad Called To Sonora House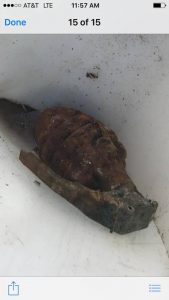 Grenade found in Sonora home

View Photos
Sonora, CA – A homeowner opened a box and to his surprise found a grenade inside, resulting in a bomb squad being called to the residence.
Tuolumne County Sheriff's officials report that while moving some boxes in the basement of a home on South Sunshine Road near Draper Mine Road in Sonora a resident discovered the explosive device.  Sheriff's officials called in the Calaveras County Sheriff's Office Bomb Squad, which found that the grenade was inoperable and had no explosive material or primer, rendering it inert.
Tuolumne County Sheriff's spokesperson Sgt. Andrea Benson says they get a lot of calls from the citizens regarding explosive devices or weapons found on property. Some actually bring the explosive materials to the department to check out. She stresses, "If you find these types of devices please call the Sheriff's Office immediately. They are very dangerous. Do not pick them up or attempt to move them. Some of these devices have had the materials taken out of them to be kept as souvenirs but may still have the primer fuse in them which could cause severe injuries to your hand if it ignited."
No other devices were found at the home.