SRMC Staff Moves Reflect Focus On Community Partnerships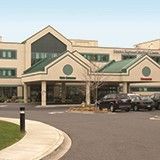 Sonora Regional Medical Center

View Photos
Sonora, CA — As a major expansion at a local medical center continues with full-tilt construction on its cancer center, personnel moves have also been in play.
Today, Sonora Regional Medical Center (SRMC) made the formal announcement that Kara Turpen is its new manager of philanthropy. She was hired away from Rocky Mountain Adventist Healthcare Foundation (RMAHF) in Denver, Colorado earlier this year and holds credentials that include a bachelor's degree in public relations from Southern Adventist University and certification as a fundraising executive.
The center also telegraphed a second move it recently made. Designed to further strengthen its community ties in Tuolumne and Calaveras counties, it tapped Kathrina McRee, the director of physician recruitment, to also head up community relations efforts. Onboard at SRMC for six years now, officials describe her role as overseeing the hospital's support to community organizations; working in tandem with Turpen on fundraising events and development projects.
CEO Andrew Jahn emphasizes that in leading the SRMC philanthropic and community relations efforts to create and nurture community partnerships, Turpen and McRee are furthering a key mission of helping care for and invest in the community.
He shares, "Our commitment to loving service extends not only to our patients and their families but also to the community at large. The relationships we foster in the community ultimately results in improved health and well-being, whether it happens through the medical center, supporting the fight against childhood obesity, or through generous donors helping cancer patients via our Cancer Patient Support Fund."