Supervisors Unanimously Approve Stone Mill Center Project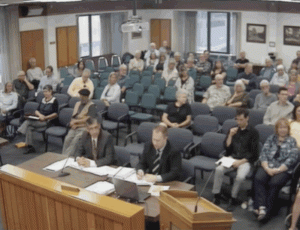 Tuolumne County Supervisors Public Hearing On Stone Mill Center

View Photos
Sonora, CA — After a two-and-a-half hour public hearing, the Board of Supervisors voted 5-0 in favor of the Stone Mill Center project at the intersection of Parrotts Ferry Road and Union Hill Road.
The special Tuesday evening session was held in the Board of Supervisors meeting room in downtown Sonora. The project was approved by the Planning Commission in early January but later appealed by the local organization Citizens for Responsible Growth.
The project will consist of three commercial buildings that will total a combined 15,933 sq. ft. and be situated along 2.1 acres.
The debate that unfolded Tuesday evening was whether the county should require a full Environmental Impact Report instead of the smaller Mitigated Negative Declaration environmental document prepared for the project. The supervisors unanimously agreed that the project fit the criteria for the Mitigated Negative Declaration route.
Including project consultant Ron Kopf, 10 people spoke about the benefits of the Stone Mill Center. Main points were that a planned SRMC Prompt Care onsite would allow for additional healthcare options. In addition, it would help the economy, create more retail options and provide new jobs.
Just over 20 people spoke against the project. Concerns were about increased traffic on the degrading Union Hill Road, a perceived loss of quality of life and heritage, and the property being in a Class C crash zone near the Columbia Airport.
Supervisor John Gray said he feels the site plan was well thought out and he brought up that the board is not tasked with looking at the general merits of development, but instead whether the project meets the design requirements for the existing zoning, which he feels it does.
Supervisor Randy Hanvelt acknowledged the Union Hill Road is in poor shape, but stated he feels the corner property under review "needs something." He brought up concerns about the overall state of the corridor, and the state park, which he stated are in need of upkeep and improvements.
Supervisor Evan Royce called it "night and day" when comparing the Stone Mill Center plan to the Dollar General store that was denied last year in Columbia. He stated the design is consistent with what is already on the corridor, and said it is a well thought out site plan.
Supervisor Karl Rodefer said the email traffic he has received has been 2-1 in favor of the project. He also dismissed many of the concerns related to the proximity to Columbia Airport.  He said the project meets all aspects of the General Plan and the Columbia Area Plan.
Board Chair Sherri Brennan added that many residents in the north Sonora area are looking forward to the project, as it will add a prompt care and shopping. Referencing Supervisor Rodefer's 2-1 comment, she said the feedback she has heard in favor of the project has been closer to 3-1.