Illegal Drug Making Materials Dumped On School Property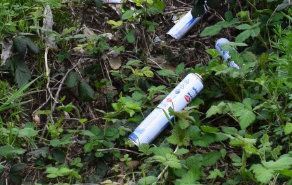 Butane cannisterdumping at CHS

View Photos
San Andreas, CA — A tract of land by a Calaveras High School parking lot was littered with butane canisters used in making illegal drugs, according to Calaveras County Sheriff's officials.
Deputies were called to the school recently after a report of illegal dumping at the school. Once on scene, deputies discovered 44 butane canisters, near the lower parking lot on High School Street in San Andreas. Sgt. Anthony Eberhardt indicates that the canisters appeared to be garbage from a Butane Honey Oil lab where THC is made into hash oil or "Honey Oil." He adds it is a very dangerous process because the labs are known to explode or catch fire — burning and even killing some individuals using the gas. Sgt. Eberhardt notes, "It is concerning with it being found on school property. The canisters themselves were probably minimal risk because the butane had been extracted from the cans."
Sheriff's officials have no suspects at this time but report it is an active investigation. Regarding cases like this, Sgt. Ebrhardt indicates, "It's very difficult. Sometimes we can finger print the cans or there can be DNA on the cans. It's a large process, with these canisters it's unsure if they're mail ordered or bulk ordered or how they were obtained."
Anyone with information is asked to contact the Calaveras County Sheriff's Department at 209-754-6500.