Free Reforestation Workshop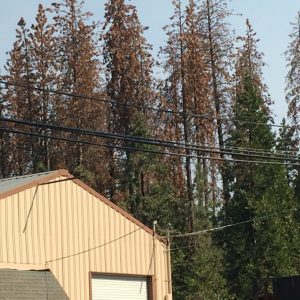 Dead trees along HWY 108

View Photos
Sonora, CA — The high tree mortality has left barren tracks along the landscape of Tuolumne County and now forest landowners and foresters are getting tips from the experts regarding reforestation.
Hosts of the Reforestation Workshop include Cal Fire, Natural Resources Conservation Service (NRCS) and UC Extension. It will be held at the Ambulance, Fire and EOC Facility located at 18440 Striker Court off Tuolumne Road in Sonora on Friday, April 7th, from 10 a.m. to 3 p.m.
Organizers provided this schedule for the workshop:
Reforestation in the Sierras following High Tree Mortality for private nonindustrial landowners:
1. Introduction
2. Stand dynamics following heavy mortality – Susie Kocher – UC Extension
Lessons learned from similar mortality experiences in the Rocky Mountains and BC
Options and possible outcomes of taking action now.
3. Reforestation basics
What's left? Assessment of natural regeneration both in density and desirability of species – Guy Anderson – CAL FIRE
Planting stock/ nursery program development – Selection of planting stock – Dorus Goidsenhoven – CAL FIRE
How to order trees, site preparation, and how to plant trees – Mark Egbert, RCD
Post planting Treatments– Zolt Katay– CALFIRE
30 Minute Lunch Break – Bring Bag lunch
4. Reforestation Cost share opportunities
CFIP program and funding –Zolt Katay– CAL FIRE
EQIP program and funding- Bobette Parsons –– NRCS
5. Questions
RSVP's are due by Wednesday, April 5th to Susie Kocher, University of California Cooperative Extension, sdkocher@ucanr.edu or (530)542-2571.