Tree Worker Faces Three Charges After Weekend Arrest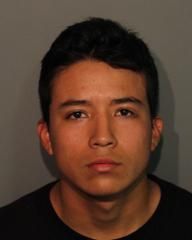 Jonathan Vasquez, Angels Camp Police/Booking Photo

View Photos
Angels Camp, CA — A San Jose man temporarily staying in Angels Camp while working on a local tree mortality project has been arrested.
According to Angels Camp Police Chief Todd Fordahl, officers were alerted to a possible car burglary attempt happening Sunday around 4:30 p.m. on Main Street in the Calaveras Lumber parking lot. "Two witnesses, one who was the owner of the vehicle that was vandalized, advised that the suspect was holding some type of tool that he used in several unsuccessful attempts to break the glass on the vehicle," Chief Fordahl recounts.
The chief shares that after the witnesses indicated they last saw the suspect crossing Highway 49 on foot and heading towards a nearby residence, officers were shortly able to track down the suspect at a home located in the 100 block of Peri Street.
The man, identified as Jonathan Vasquez, 18, was arrested on charges related to attempted auto burglary and vandalism, the latter relating to the damage he left while breaking two different windows on the vehicle. After his arrest, Chief Fordahl says that Vasquez admitted to investigators that he was "showing off" to friends by attempting to break in — but offered no other explanation for his actions — and no tool or device that was reported by witnesses as being used by Vasquez was recovered.
However, following a records check, police did learn that Vasquez had an outstanding warrant out of Santa Clara County, which they served.
The chief notes that while the presence of tree workers in large numbers is noticed and felt in the area, there have been few complaints to date, and those have mainly been noise-related. Vasquez, he says, is the first arrest.