Update: Storm Related Power Outages Across Mother Lode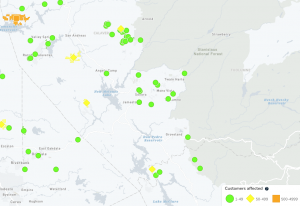 Thursday Power Outages

View Photos
Update at 2:15 p.m.: PG&E reports that the weather is to blame for 920 customers losing their power in the one o'clock hour along the Calaveras and Alpine County lines. Most of those impacted are along Highway 4 and in the Bear Valley area. The utility has not released a restoration time and notes that one is "to be announced." This is the same area that lost power during the storm system that passed through the Mother Lode region this past Saturday, as detailed here. Additional information on power outages in the Mother Lode is below.
Updates below written by BJ Hansen at 8:20am: Power outages remain widespread in the Mother Lode region.
Some positive news, PG&E reports that the largest outage has now been restored, over 2,100 customers up the Highway 4 corridor. They lost electricity at 9:40pm on Wednesday.
Avery Middle School earlier announced that classes would be canceled today due to the outage. However, now that the lights are back on, school will instead start two hours late.
Original story posted at 6:21am: Sonora, CA — With the storm system passing through the region, there are widespread power outages in the Mother Lode.
The largest is impacting 2,176 customers up the Highway 4 corridor in Calaveras County. Areas without power include Vallecito, parts of Murphys, Forest Meadows, Hathaway Pines, and Avery. The outage started at 9:40 last night and PG&E says it is unclear when it will be restored. Around that same time, 77 lost power near Pool Station Road and about 40 in Rancho Calaveras.
Near Lake Tulloch, on the Tuolumne County side, there are 137 without electricity, and between Moccasin and Coulterville there are 313. In Amador County, near Comanche Reservoir and Pine Grove, there are thousands without electricity.
PG&E is not giving an estimated restoration time for any of the outages as crews are stretched thin and also responding to incidents throughout the Bay Area and Central Valley.
To read the latest on the weather system, click here.