Doctor Appointment Wait Times A New Epidemic?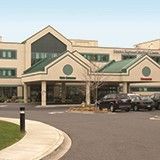 Sonora Regional Medical Center

View Photos
Sonora, CA – A local medical center says it is acutely aware — and is trying to address — the distress frustrated residents face not being able to easily get in to see a doctor.
Sonora Regional Medical Center (SRMC) officials say the root cause is because the center — like many other health care organizations — is keenly feeling the impacts of a nationwide physicians' shortage.
According to SRMC spokesperson Lindsay Brewer, the wait many new patients face to access a primary care doctor is dependent on having providers to open practices. "We have very limited physicians/providers who are accepting patients at this time and so the wait varies case by case," she states.
Recent Relief Measures
Among SRMC's moves towards providing a modicum of relief was hiring San Andreas physician Dr. Dean Kelaita, who recently closed his San Andreas office and is now working at the SRMC Angels Camp clinic. Although Brewer admits his practice is already nearly full, SRMC officials are hoping that the move will free up a few new patient slots.
Also hired this past month, although on a temporary "Locum Tenens" basis was Dr. Steve Tortorice, a family physician from the Sacramento area. Additionally Nurse Practitioner Lisa Andrews, who recently moved to Sonora from North Carolina, is seeing new patients as a primary caregiver at at SRMC's Cedarwood Internal Medicine clinic.
Once new patients are referred to see specialists, the wait times to get in vary greatly. Currently it might take three months — a year if scheduling an annual exam — for a gynecologist visit, Brewer says. Facing similar three-month backlogs are gastrointestinal (GI) specialists. According to Brewer, waits for surgical, ortho and vascular-related appointments with specialists are currently running one to two weeks; it is also two weeks to see a cardiologist; three weeks for an obstetrician; four weeks to see a vascular specialist.
Dealing With A Serious Shortfall
SRMC officials share that a study by the Association of American Medical Colleges, released this month, predicts a U.S. shortfall of physicians somewhere between 40,800 and 104,900, due to factors such as population growth, an increase in the number of aging Americans and the retirement of practicing doctors.
As Kathrina McRee, SRMC director of physician recruitment and community relations puts it, "Fortunately, we have a lot to offer potential candidates – a wonderful community, state-of-the-art medical facilities and highly qualified and experienced staff. Unfortunately the number of qualified physicians we are able to find and the competition we face from all of the other communities across the country pose considerable challenges for us."
In addition to meeting California licensing requirements, Adventist Health, which is SRMC's parent company, requires physician candidates to be board-eligible or certified. Too, candidates applying to permanently work here must want to live in a rural area and show a desire to stay long term.
Other Remedies In The Works
Onboard since January, an additional full-time physician recruiter is currently focusing on the recruitment of primary care doctors. Among the center's other efforts are developing a team-based approach to care; leveraging skills of advanced practice providers; also improving the use of technology such as telemedicine. In addition to these strategies being deployed nationally, SRMC officials note efforts across the country to train more new doctors by increasing the number of medical residency positions.
Although local figures on increasing average wait times to schedule a new patient appointment were not readily available on Friday, Merritt Hawkins, a national physician search firm, just released a broad study. Among its somber findings, in 15 of the nation's largest cities the wait time has risen by almost a third over the past three years. The company's president, Mark Smith says the current wait times are the longest recorded since Merritt Hawkins began conducting the survey.
These days, Smith notes that finding a physician who can see a patient on the same day or even within three weeks can be a challenge — even in large urban areas where there is a relatively more robust supply of doctors. Speaking to what regions like the Mother Lode are facing he states the obvious: "The challenge becomes even more difficult in smaller communities that have fewer physicians per population."