Sheriff DiBasilio: Measure B Does Not Ban All Growing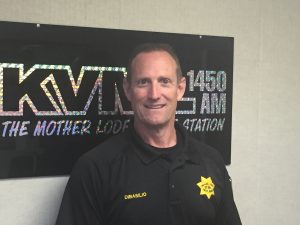 Sheriff Rick DiBasilio

View Photos
San Andreas, CA – With the May 2 special ballots nearly ready to hit mailboxes the Calaveras sheriff is hoping to clear the air of confusion over the Measure B ban initiative and his perspective.
Sheriff Rick DiBasilio reiterates that whether or not the Measure B citizens' initiative on commercial cannabis cultivation carries, people will still be growing weed. Legally, under Prop 64 that passed last fall across the state, anyone 21 or over may legally grow up to six marijuana plants for personal recreational use, although the county has some sway as to whether it can require the plants to be located indoors.
Unless the county government adds its own specific local rules on medical grows where permitted by the state, the sheriff adds that, by default collectives might continue as they have been allowed under the 1996 Prop 215 Compassionate Use Act.
Under Prop 64 local governments may restrict and even prohibit cultivation in some circumstances by local nuisance ordinances, Prop. 215 notwithstanding. Otherwise, under the three separate bills comprising the Medical Marijuana Regulation and Safety Act (MMRSA) – AB 243, AB 266, and SB 643, patients might have individually have up to 100 square feet of growing space, with collective gardens limited to five patients unless they obtain a state license.
Sheriff: Cannabis Now More Of A Land Use Issue
He also shares the following statement: "I have been repeatedly asked about marijuana and the safety of Calaveras citizens. Last year the voters of California chose to decriminalize possession of small amounts of marijuana and to allow the small scale cultivation of marijuana.
"In addition, marijuana cultivation has now become a land use issue based upon decisions by the voters and the Calaveras County Board of Supervisors (BOS). In 2016, the previous BOS chose to allow large commercial cultivation inside of residential areas of Calaveras County through an Urgency Ordinance.
"The Sheriff's Office firmly stands behind the need to remove commercial marijuana cultivation from our neighborhoods. I believe growing large amounts of marijuana in neighborhoods is not safe and results in both violent conflicts and quality of life nuisances, such as noise and odor that affect those who choose to live a quiet peaceful life in their homes and neighborhoods.
"While most of the marijuana processes are now being handled through Code Enforcement and the Planning Department, the Sheriff's Office will, of course — ban or with no ban and regulation — still actively investigate criminal activity involving marijuana and all other illegal drugs. The Sheriff's Office places our citizens' safety first. We will work together with our citizens to keep them safe.
"The Sheriff's Office does not want or rely upon marijuana funds to operate our office and keep our citizens safe. Whether marijuana is banned or regulated, it is up to the BOS to sufficiently fund the Sheriff's Office to address criminal issues that arise within the community.
"I also believe we should do everything we can through early education and to discourage marijuana's recreational use."
The sheriff notes that in his extensive talks with other enforcement officials dealing with regulation, especially those in Colorado, regulation brings more money in — including for enforcement — but is proving at this point to also increase the level of criminal activities in those areas. "Either way, a ban or regulation is not going to make the problem go away," he states. So if there is any advice he might give as to which way to vote perhaps, he says, it is for folks to maybe just let own conscience be their guide.
County officials are awaiting a judge's ruling later this week on whether Measure B can proceed to go out on the spring ballot mailing after Calaveras Naturals, which owns Little Trees Dispensary in Arnold, filed suit against the supervisors over the legality of wording within the initiative.